Welcome to Lemhi County Airport
Fly Idaho – Lemhi County Airport is located 4 miles south of the City of Salmon Idaho in eastern Central Idaho. This class B, general aviation airport features a 5,510 x 75′ paved airstrip at an elevation of 4,044 feet. Lemhi County Airport services include: parking tie downs, a courtesy car available on a first come first serve basis, and fuel. Click here for a complete listing of Airport Services available.
PUBLIC NOTICE
The Lemhi County Airport and Lemhi County, Idaho hereby announces its fiscal years 2018 through 2020 goal of 5.2% for Disadvantaged Business Enterprise (DBE) Federal Aviation Administration (FAA) assisted airport construction Contracts.
Fuel
100LL Avgas…. $4.86/gal
Jet A……………. $3.89/gal
Brand: …………..Phillips 66
Hours…24 Hr Self Service
Price includes all taxes.
Fuel Prices subject to change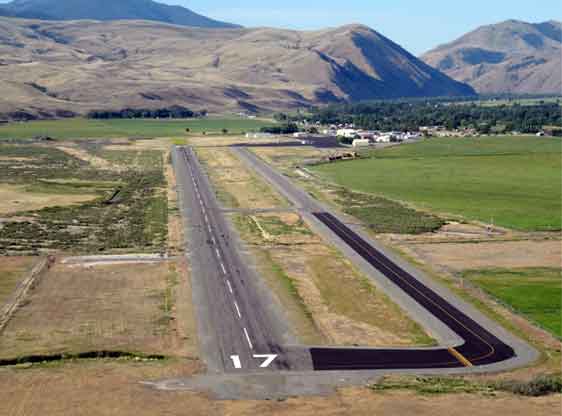 Recreational Flying in Idaho – The Upper Salmon River country offers many great reasons to visit Salmon Idaho. Brimming with outdoor recreational opportunities to be experienced on your own, or connect with local hunting, fishing, or whitewater rafting outfitters or FBO charters services to enhance your outdoor adventures even further. We welcome FLY-INs to Lemhi County Airport and encourage you to stay awhile to enjoy our  community of friendly people, beautiful surroundings, many area attractions, ghost towns, exceptional lodging, dining, shopping and even rejuvenating at a local spa or hot springs.
Access to adventurous Idaho backcountry flying including:

Frank Church River of No Return Wilderness, the largest wilderness area in the contiguous United States

Mount Borah, Idaho's tallest peak

Stanley Basin and the Sawtooth National Recreation Area

Main Salmon River and Middle Fork of the Salmon River

Backcountry adventures near Salmon Idaho area include:

Backpacking, steelhead fishing, hiking, hunting, kayaking, skiing, whitewater rafting, and other backcountry activities.